Shō Number Two
Shō Number Two appeared in Spring 2003 and featured poetry by Amy Uyematsu, Jim Simmerman, Ann Menebroker, William Packard, Todd Moore, Gerald Locklin, Joan Jobe Smith, Fred Voss, A.D. Winans, Lyn Lifshin, Robert L. Penick, and others. We think it could hold its own in any collector's library.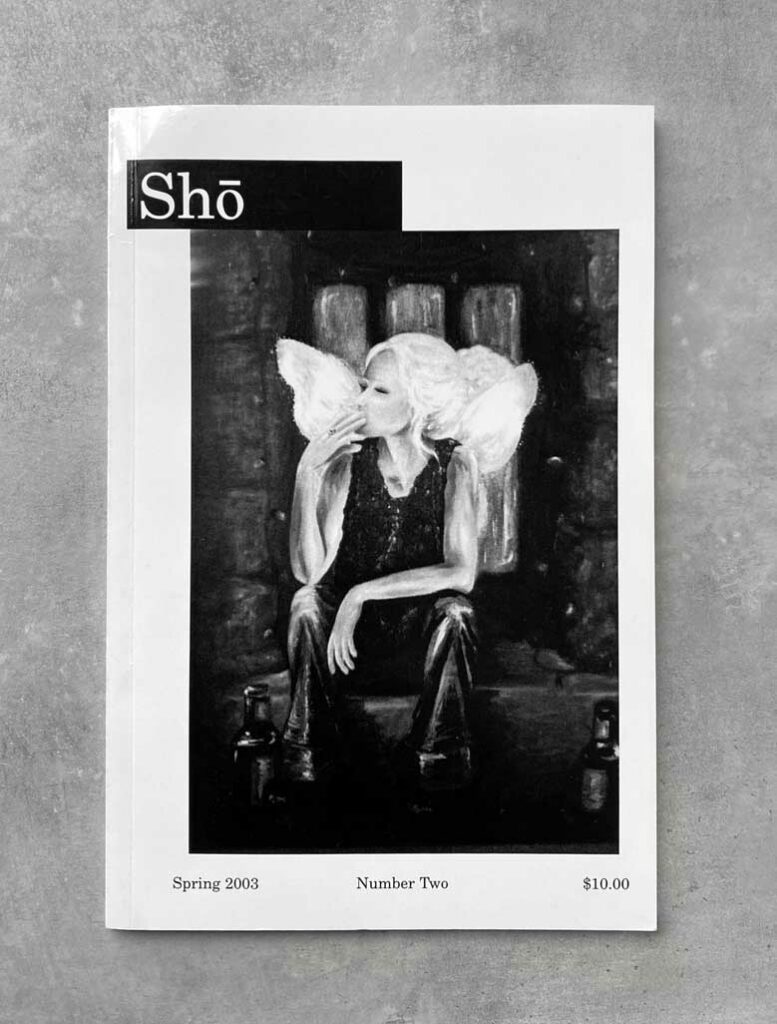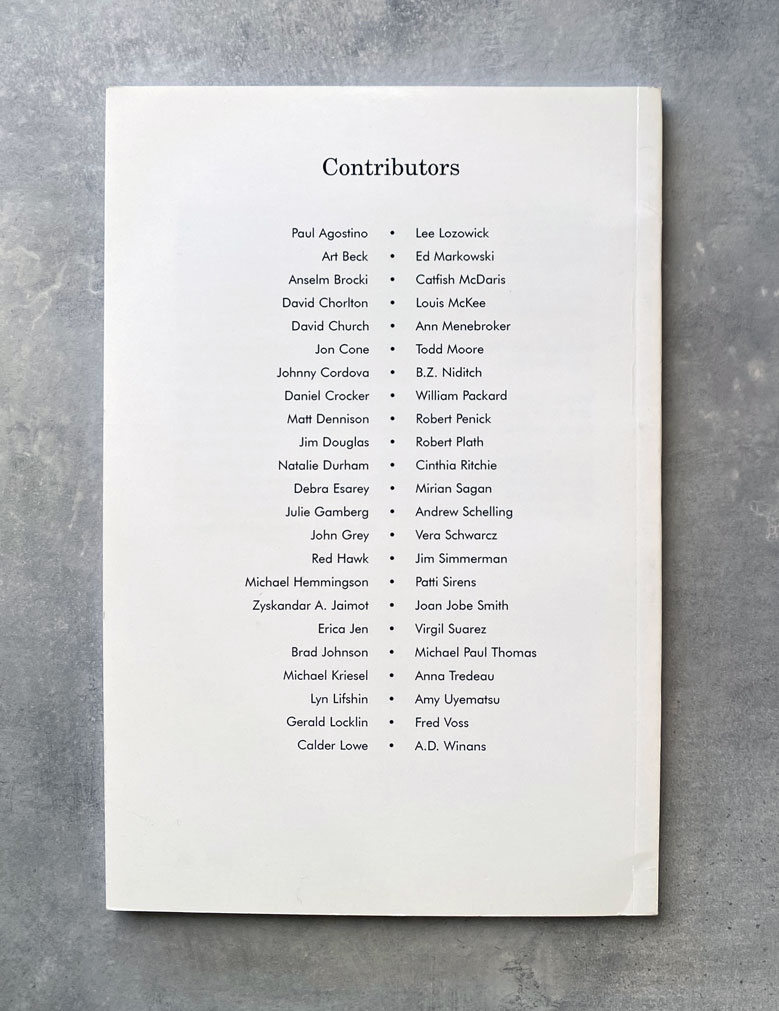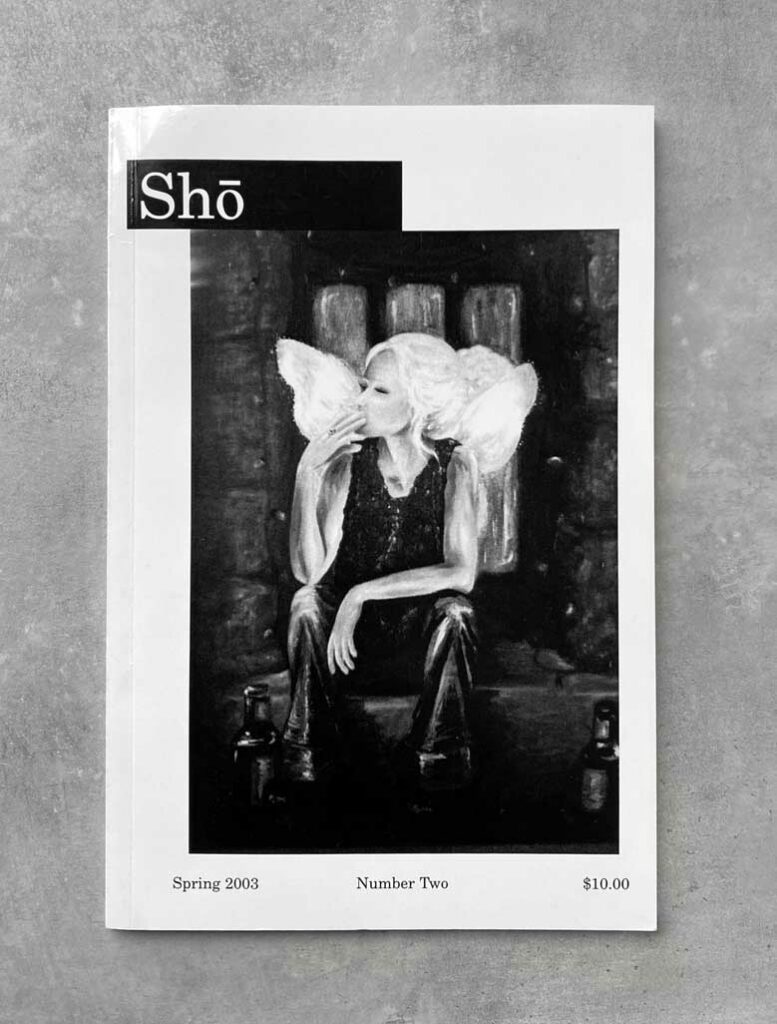 In this Issue
PAUL AGOSTINO The Girls of Summer
ART BECK The similarities are striking: / Nicotine
ANSELM BROCKI Hide-and-Seek
DAVID CHORLTON Craft / Invocation: for an evening of horror stories
DAVID CHURCH Early Winter Morning
JON CONE Ice / Photograph
JOHNNY CORDOVA Upon Seeing The Body Of A Friend
DANIEL CROCKER So, Where Does This Leave Me?
MATT DENNISON What Happens / Pool Hall
JIM DOUGLAS Happiness / Hobbies
NATALIE DURHAM Been Thinking About Tuscon / The Smell of Freshly Cut Grass
DEBRA ESAREY Perfect Gifts
JULIE GAMBERG Carrion
JOHN GREY Rain On The Roof
RED HAWK Lacks Punch / The Plumber / What I Saw Through The Hotel Window / ix-xi
MICHAEL HEMMINGSON Love Me Tender
ZYSKANDAR A. JAIMOT The Class Warfare of Sex
ERICA JEN a war effort / get out
BRAD JOHNSON Waking Up This Morning (Hard-On Poem #93)
MICHAEL KRIESEL The Wittenberg Hotel
LYN LIFSHIN Hiroshima / One Woman's Story / They Used Chocolates / Haiti
GERALD LOCKLIN i wrote tonight / paul gauguin: the siesta
CALDER LOWE The Muse's Lapdance
LEE LOZOWICK untitled
ED MARKOWSKI What Could Have Been
CATFISH McDARIS Mexican Waterfalls
LOUIS McKEE Fourteen, Fifteen / American Beauty
ANN MENEBROKER At The Mercy Of Another Hour
TODD MOORE memphis willie / the last / street / standing / lady on
B.Z. NIDITCH The Disappeared
WILLIAM PACKARD untitled
ROBERT L. PENICK Cleaning / The End of June / Something New / Error
ROBERT PLATH Playing God
CINTHIA RITCHIE Communion
MIRIAM SAGAN Conflagration
ANDREW SCHELLING Haibun for the Hayman Fire
VERA SCHWARCZ Instead Of Sleep
JIM SIMMERMAN Here and There
PATTI SIRENS Just Beyond the Edge of the Woods
JOAN JOBE SMITH Ted Williams's Tongue As Recalled By A Former Cocktail Waitress Tomato / Ars Longa, Vita Brevis
VIRGIL SUAREZ Forlorn: Vanishing Points on the Anxious Night
MICHAEL PAUL THOMAS New Year
AMY UYEMATSU It's Like Gasoline
FRED VOSS This City Is Full Of Pianos / "Hola" Is About As Far As I Can Get / All Those Glorious L.A. Cantinas / Last Judgement / This Tree Grew Out Of His Heart
A.D. WINANS Untitled / Strange Happenings / Surreal Dream One / Winter Poem
Cover Photo: "Lara," Oil on canvas, by ANNA TREDEAU